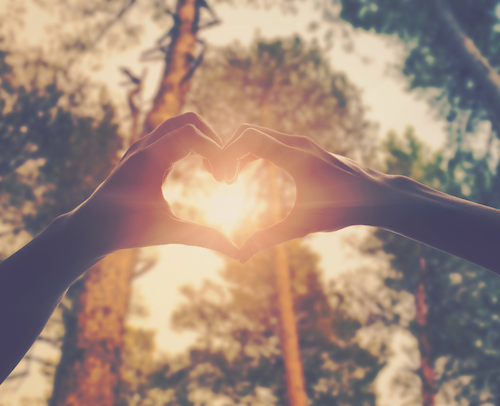 ("What's a Session with Kia Like?" is a guest post to The Loving Channel Blog by Lisa Fernandez.) 
Before my first session with Kia, my heart beat like a nagging drum in my ear. I'd never been to a psychic before and I had no idea what to expect.  My imagination ran wild.
Buh-boom buh-boom buh-boom.  What if she sees bad news ahead?  Buh-boom.  What if she can see when I've road-raged? Buh-BOOM!  What if she thinks I'm a bad mom?
It's a good thing our session was online.  I was in no condition to drive.  Zoom chirped and there was Kia, with the most beautiful smile.  
It's so corny to say this, but I swear that a light seems to emanate from Kia.  She reminds me of the angel in Date With An Angel...  My fellow, "geriatric" millennials might get that reference. 😉
Should I say something?  Does she see something ugly in my aura?  Or something bad in my future?
Without missing a beat, Kia gracefully began.  She described an image that came up in her pre-session meditation.  What she shared was so spot on that my fear vanished instantly.  I knew I was in good hands.  I didn't even care that I was ugly-crying. 
Kia nodded knowingly, not even batting an eye at my emotional outburst.  I nodded back, not wanting to elaborate.  After all, she was the psychic, not me.  I could say plenty about my situation.  But I wanted to hear what she had to say about it.  I was in desperate need of spiritual guidance.  
Job, Family, and Money
Before our session, I had written down three areas of my life that I had questions about.  For those of you who are curious, I wrote:  job, family and money.  I couldn't formulate specific questions;  it was a fairly chaotic time in my life.  But Kia reassured me that I didn't need specific questions… or any questions at all, for that matter.  
I asked her if we could talk about my job first.  Without missing a beat, Kia closed her eyes.  I watched like a hawk as she gathered impressions.  She cocked her head to the side, smiled gently, and gave a little nod.  After a few moments, she opened her eyes.  Without any input from me, she gave a thorough summary of my situation.  
I breathed a huge sigh of relief.  I felt so seen.  This felt even better than therapy.   Someone else was describing how it felt to be in my shoes.  That was so cathartic.  And Kia nailed it: the way I felt, the things I did and why. 
"Yes…yes….EXACTLY!!!"  I exclaimed.  She suggested helpful ways for me to approach these obstacles.  Oh my gosh, this IS like therapy.  Is there such a thing as "psychic therapy"?  Apparently, there is.  Because that's how a psychic session with Kia feels.
I gave her the name of a person and I simply asked "Can you give me any guidance with them?"  This was someone in my personal life that I was having conflict with.  
What happened next left me speechless.  
After opening her eyes, Kia smiled as she described this person to a T.  It's like I was talking to a mutual friend.  She described them backwards and forwards. Kia didn't just nail their personality and quirks.  She made psychological insights about them that people who knew them might not be able to articulate.  It was uncanny.
Kia finished covering my areas of concern.  Every time I had a question, she would repeat the process:  close her eyes and breathe while she gathered information.  Often, an expression would flicker across her face.  
Our back and forth was so satisfying.  For some reason, I thought a psychic session would be stiffer, that I wouldn't be able to ask many questions.  It was the exact opposite; it was fluid, natural and comforting.  Like having a nice chat with a wise friend.
Near the end of our session, Kia asked if I had any other questions.  I asked a lingering question or two that still bothered me.  The responses satisfied me.  Sure, the messages (much like life) weren't all puppies and rainbows.  But Kia's spiritual guidance was so profound that I felt fortified.  I was ready to face the challenges ahead.
I'm happy to report there were no doom or gloom prophecies.  In fact, I felt no fear during my session with Kia. Quite the opposite, the session did a great deal to relieve my suffering.  Sure, I felt strong attachments to certain outcomes.  But nothing was scary.
Being in Kia's benevolent presence is so soothing.  I know that the intelligence that she connects to is one that vibrates at a very high level.  Anyone who spends any time around Kia can tell that she and the "Divine" (or whatever you'd like to call it) are very good friends 😀
Contentment
I've subsequently had many online psychic sessions with Kia.  Sometimes I schedule a session because things aren't going the way I planned.  Other times, I want a session for the exact opposite reason.  That's when she receives emails like–  "OMG what you recommended is working!!! WE NEED TO TALK."  
In the end, I always find what  I'm actually looking for.  Which, let's be honest, is never actually "the job, the guy, the money" but the way those things make me feel. I actually need spiritual guidance.  And I want contentment and peace.  I'm yearning to reconnect to love, beauty, and to the truth of who I really am.
I've come to discover that, in my humble opinion, one of Kia's greatest psychic abilities is giving me a read of people in my life.  She effortlessly describes people she's never met, and knows nothing about.  Her accuracy tickles me, truly.  I can't help but giggle every time.  
This gift leads to incredible insights.  It helps me not take things as personally.  It's the closest I've felt to "walking a mile in someone else's shoes."  It helps me empathize with the struggles of my friends, relatives and colleagues.  I've realized in a profound way that I am not the only soul who feels lost.  And I'm never alone in my quest for answers.
If you've found yourself with burning questions about your life and you haven't been satisfied with the answers you've found, schedule a psychic session with Kia.  In my experience, she's one of the only people (aside from my therapist) that somehow can validate what I'm intuiting on a gut level.  
It is such an exciting and empowering experience that I implore you, dear reader, to experience it for yourself.  The only thing I regret is not reaching out to Kia sooner.  Learn from my mistake and schedule your session with her today!  The only thing you have to lose is your limiting beliefs 🙂
How to Prepare for a Psychic Session with Kia
What areas of your life do you have concerns in right now?  Any questions that keep coming up?  If so, write down about 2-4 questions/areas, to make sure you have enough time to cover them all.
Make sure you have a quiet place with a good internet connection for your session.
If you want to make notes, do you have something to write with?  If you'd prefer to just be in the moment, just relax.  Kia can send you the session recording.
Make sure you have a beverage with you if you'd like.
Take a deep breath and thank yourself.  As nerve-wracking as it can feel before you begin, at the end of your session, you're going to feel at ease and empowered.  What is better than that?!